A Welcome from our Minister – The Reverend Anne Robertson
We welcome you to our virtual worship on Sundays at 10:00 am on Zoom.  You can Sunday School at home at a time that works best for your family or join a Youth Group Zoom gathering.
Keep up with what's going on at Crawford by subscribing to our Newsletter, viewing past newsletters or viewing past Worship services, sermons, and Time for the Child videos on our YouTube channel.
Remember, your giving is as important as ever.  You can send your check to the church (34 Dix Street, Winchester, MA, 01890) or give online here.
About Us
Crawford Memorial United Methodist Church of Winchester, MA is a Christ-centered and inclusive community. We open wide our doors to all people who long to be a part of a vital congregation. Click to learn more about us.
First Sunday Blessing Services
Come for the Blessings
Our next outdoor Blessing Service will be on November 1, Blessing of the Saints. Not the canonized saints of the Church, but the saints of Crawford's past and yours. We'll remember those who have shaped our lives in deep and beautiful ways, both personally and as a church. Did you know that the small maple trees planted around the church were each planted for one of Crawford's own saints? We'll have the names up so you can go to each tree and remember. We'll tell stories.  We will also consecrate our 2021 pledges and share in the sacrament of Holy Communion. Please wear a mask, bring a chair and your own communion elements. If the weather looks iffy, bring rain gear. Childcare will be provided on the playground, although the service will be child-friendly and children are welcome to attend.
At 10:00 am on that Sunday there will be a live stream of the service on our Facebook page for those who prefer to join us online. That will take the place of the "live" Zoom worship which will continue on the other Sundays of the month. The Blessing Service will also be recorded so you can watch the highlights later on our YouTube channel.
If you haven't already, please sign up to let us know you're coming.
Pastor Anne has prepared a video to explain the nature and purpose of blessings. Or, if you prefer, it is also available as PDF.
Why We Bless Things:  Watch or Read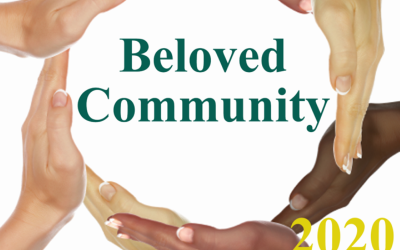 Our annual Church Conference has been set for the morning of Saturday, October 24. The Church Conference will begin at 11:00 am and go until 12:30 pm. It will be a virtual meeting. Contact the Church Office for the Zoom details. All members of Crawford are encouraged to attend!
read more
When Jesus turned water into wine at a wedding in Cana, he signaled that his ministry was about transformation, so we've been looking at what transformation and spiritual growth look like in the pages of the Bible. We know it takes time, just like it takes time for a...
read more
This Sunday is Laity Sunday, an annual worship service led by people in the congregation. It is an acknowledgement that we are all ministers, all invited to be part of God's work here on earth. The theme for this year is presence: God's abiding and constant presence, an...
read more
Saul's conversion on the road to Damascus is depicted in art and referenced in our culture in many ways. Apart from Jesus, perhaps only Abraham rivals the name recognition of Paul (Saul's Greek name) when people think of the Bible. And yet to move Paul from his cruel...
read more