At Crawford we value reaching out to our community and beyond to support social justice by helping our neighbors in need. Our goal is to continue current our efforts while opening ourselves to new possibilities.  We have provided loaded backpacks to local homeless people, delivered furniture for Mission of Deeds, provided Thanksgiving Baskets and Christmas Stockings for the Council of Social Concern, donated books for under-served youth and incarcerated men and women, served dinner at the Dwelling Place, collected clothing for job interviewees and distributed 2,500 pairs of Bombas socks.
Current Crawford Missions:
Dwelling Place Dinners
Council of Social Concern Food Pantry
Micro Pantry (see wanted items here)
Bombas Donation Socks
Dress for Success/Goodwill Industries
More Than Words & Prison Book Program
Treats for Troops
Homeless Outreach
We welcome all, both those at Crawford and those outside Crawford, to become involved in our missions. You don't have to be a Crawford member to be a volunteer to help others.  Come join us and reap the benefits.
If you would like to financially support our Missions, please visit our Give page.
Crawford's Micro Pantry
There are more people in Winchester who need food assistance than we imagine, and that number has only increased this year in the face of the Covid-19 pandemic. In an attempt to help alleviate food insecurity in our community, Crawford Church put up a Micro Pantry. It is on church property next to the driveway off 34 Dix Street.
The pantry is stocked with non-perishable food. Anyone who wants food is welcome to freely take whatever they want from the pantry at any time. The pantry is never closed.
If you are able to donate food, please leave it on the front steps of the church building. The food will be used to stock the micro pantry and the rest will be brought to the Council of Social Concern's food pantry, which serves residents of Woburn and Winchester.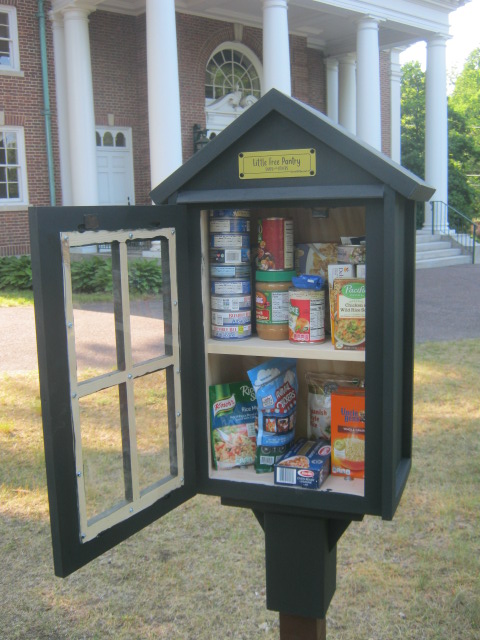 Crawford Church sponsors the following groups and organizations throughout the year: